The company is ISO 9001 – ISO 14001 and PART21G (aeronautic) certified. Quality management is based on an active and continuous approach to improving the organization and regular updating of management tools. The products and systems meet the most demanding standards in their field of application.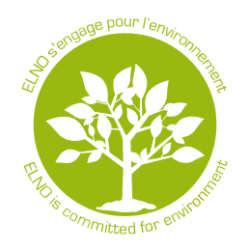 ELNO : certification ISO14001:2015
This certification confirms our commitment to the environment and the relevant implementation of our environmental policy, which revolves around the following four axes:
Ensure compliance with the regulations;
Manage risks and nuisances;
Control our consumption and our discharges;
Improve the management of our waste
For questions related to the environment and certifications, thank you to contact us at : environnement@elno.fr
CONFLICT MINERALS
Taking into account the problem of conflict minerals 
Conflict minerals are minerals extracted in conflict zones, under conditions that do not respect human rights and whose profits are used to feed armed groups. Like the American law Dodd-Franck, called "Conflict minerals", a European regulation project aims in particular four minerals:
Tantalum: Used in certain electronic capacitors and connection systems;
Tin: Used for the manufacture of electronic components and for welding;
Gold: Used for the manufacture of electronic cards and connection systems;
Tungsten: No or little used in ELNO products
As a result, our will is to reduce the use of these 4 minerals to the necessities imposed on the one hand, by the technical and performance requirements that are associated with the product and on the other hand, by the alternative technologies and components available on the market.
Our design and development teams are invited to take full account of this new problem. Especially since our main customers are now claiming "conflict mineral" declarations for project deliverables.
Similarly, our procurement needs to increase awareness and accountability of our suppliers and subcontractors to the implementation of information actions concerning the source of the conflict minerals used and their reduction.